Pinout for I/O on this module is not defined anywhere I could find for Arduino IDE.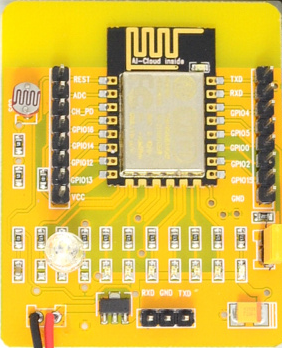 With the board sitting in front of you and the ESP at the top and the RGB Led to the left
Here is what I found:
Red --> 15
Blue --> 13
Green --> 12
LED6 --> 16
LED5 --> 14
LED4 --> 5
LED3 --> 4
LED2 --> 0
LED1 --> 2
If you poke other Pins you may crash the module.
Some seem to do nothing and other must talk to the flash chip and lock the module until the Watch Dog resets it.